Type 2 Diabetes and Covid-19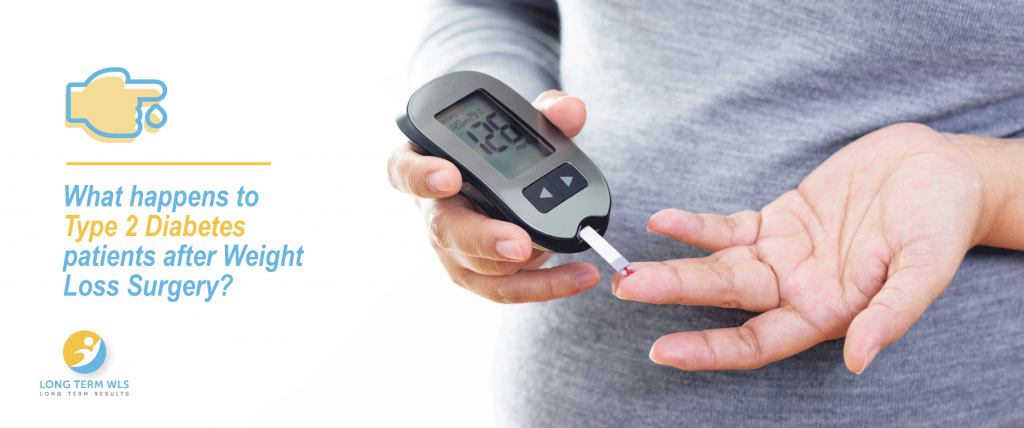 What happens to Type 2 Diabetes patients after Weight loss surgery?

Sugar in the bloodstream
Blood sugar is part of the natural components of the body, which along with other physiologic parameters, gets leveled by the body itself. All the cells in our body, as well as the brain, need sugar as one of the main components for its proper metabolic functioning that happens in each of the cells of the body.
What is Gluconeogenesis?
The process of gluconeogenesis is a complex process that stores sugar as glycogen. During this mechanism, the production of the insulin hormone by the pancreas plays an important part in helping transport glucose from the bloodstream into all the cells.
Our bodies have to be able to use the sugar we get from meals and produce insulin naturally to maintain blood sugar levels within a healthy spectrum for it to function properly.
What happens when our body can't regulate blood sugar?
Having hypoglycemia (low blood sugar) or hyperglycemia leading to ketoacidosis (extremely high blood sugar) is extremely dangerous and can be disastrous if it's not treated immediately.
Keeping Blood Sugar Levels in check
Diabetes is, unfortunately, a common chronic disease that affects many or Dr. Maytorena's patients. This disease obstructs the body's natural ability to regulate blood sugar which is why it's very important that patients monitor their blood sugar levels to prevent permanent damage to organs that can lead to heart attacks, strokes, kidney damage, and blindness.
There are many types of medications to treat diabetes that range from insulin itself to stimulate the cells to absorb glucose, as well as others that promote insulin release from the pancreas.
The complex and transmutative disease
After many years of scientific research, it has been proven that Type 2 Diabetes should be treated very seriously and monitored by your doctors to be able to manage the progression of the disease as much as possible.

The level of severity and response to treatment changes depending on the patient. To know if patients have type 2 diabetes, patients undergo the Hemoglobin A1c blood test (HbA1c). If the HbA1c level is high, it means that the patient has diabetes and must have diabetic treatment.

When patients are diagnosed with diabetes, it is very common that they are overweight, and they have to be monitored for life resulting in high costs of medical consultation and monitoring, medical supplies, and medication. The estimated annual cost for diabetes treatment in the United States is 327 billion dollars.

Type 2 Diabetes is a disease difficult to treat, and it affects mostly obese patients that are at risk of cardiovascular diseases and most frequently the COVID-19 virus.

Furthermore, to have glycemic control it is also very difficult, even for those patients who are consuming medications and have endured lifestyle changes. Fortunately, Long Term WLS and Dr. Maytorena have another option, a tool that helps control this dangerous disease and for some patients even stop consuming medication completely.
Dr. Maytorena performs two types of surgeries that help the diabetic patient, the restrictive and the metabolic procedures. Mainly the Gastric Sleeve Surgery, Mini Gastric Bypass, and Gastric Bypass help diabetic management. These types of surgeries were endorsed by the International Diabetes Federation, the American Diabetes Association and the American College of surgeons back in 2016.
Bariatric surgery is more effective than exercising and dieting alone in the long-term weight loss and patients who have had bariatric surgery with Dr. Maytorena at Long Term WLS have shown remission rates of up to 70% for type 2 diabetes.
More than 88% of the vertical sleeve gastrectomy or the bypass patients have achieved glycemic control without the consumption of insulin because they can reach the target of 6.0% in the HbA1c test.
Type 2 Diabetes patients during the COVID-19 pandemic
During this pandemic medical authorities have declared that patients who are diabetic and/or have obesity related diseases like high blood pressure, and hypertension, are at a high risk of contagion, at Long Term WLS we are preoccupied with our patient's health and quality of life, which is why we provide premium bariatric surgery experience, accessible to most diabetic patients to help fight this pandemic and stay away from harm.

Please get in touch and apply for surgery here, we can help you achieve great weight loss results and have a healthy Type 2 Diabetes management.