SOLID FOOD AND VITAMINS MEAL PLAN EXAMPLE – WEIGHT LOSS SURGERY
SOLID FOOD AND VITAMINS MEAL PLAN EXAMPLE – WEIGHT LOSS SURGERY
Once you have completed the previous stages (Clear liquids, full liquids, soft & blended food) of your POST OP DIET the next step is to regain your relationship with SOLID FOOD. But, wait… this does not mean you get to eat whatever you want. To success on your weight loss journey and achieve a healthier weight loss and lifestyle, you must follow the next guidelines now and on.
INTRODUCTION TO SOLID FOODS
In general, you must focus on your protein and vegetables intake. Avoid or limit the amount of grains, diary, processed foods and refined sugars. *Recommended to read labels
Stay hydrated; drink at least 64 oz. of water a day.
60-70 grams of protein (daily).
Separate your intake food and water by at least 30-45 minutes.
Eat slowly & chew your food well; otherwise you may experience severe discomfort on your stomach.
Certain foods may be very difficult to digest and should be approached with caution: beef, pork, nuts, corn, whole grains, beans, grapes… Introduce one new food at a time; ideally not more than one new food a day so you can gauge your body's reaction.
The total caloric intake per day will usually range from 600 to 800 the first 6 months. Then 800 to 1,200. And up to 1,500 cal. 18 months after surgery.
Here is a solid food meal plan example for gastric sleeve surgery patients: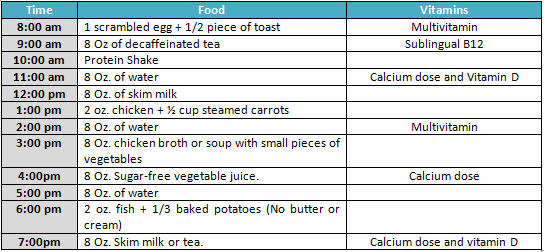 Tips and recommendations:
Foods with "healthy" fats: Avocado, nuts, sardine, peanut butter, coconut oil and salmon.
Choose lean meats and nutrient dense foods such whole fruits, vegetables, meats, eggs…
Avoid greasy, fried and spicy food.
Avoid whole milk.
Eliminate fast food and junk food.
Limit dessert, chose whole fruits instead.
Take quality nutritional supplements/vitamins.
Do not skip meals.