Gastric Sleeve Surgery in Tijuana, Mexico starting at a great price $2,999 USD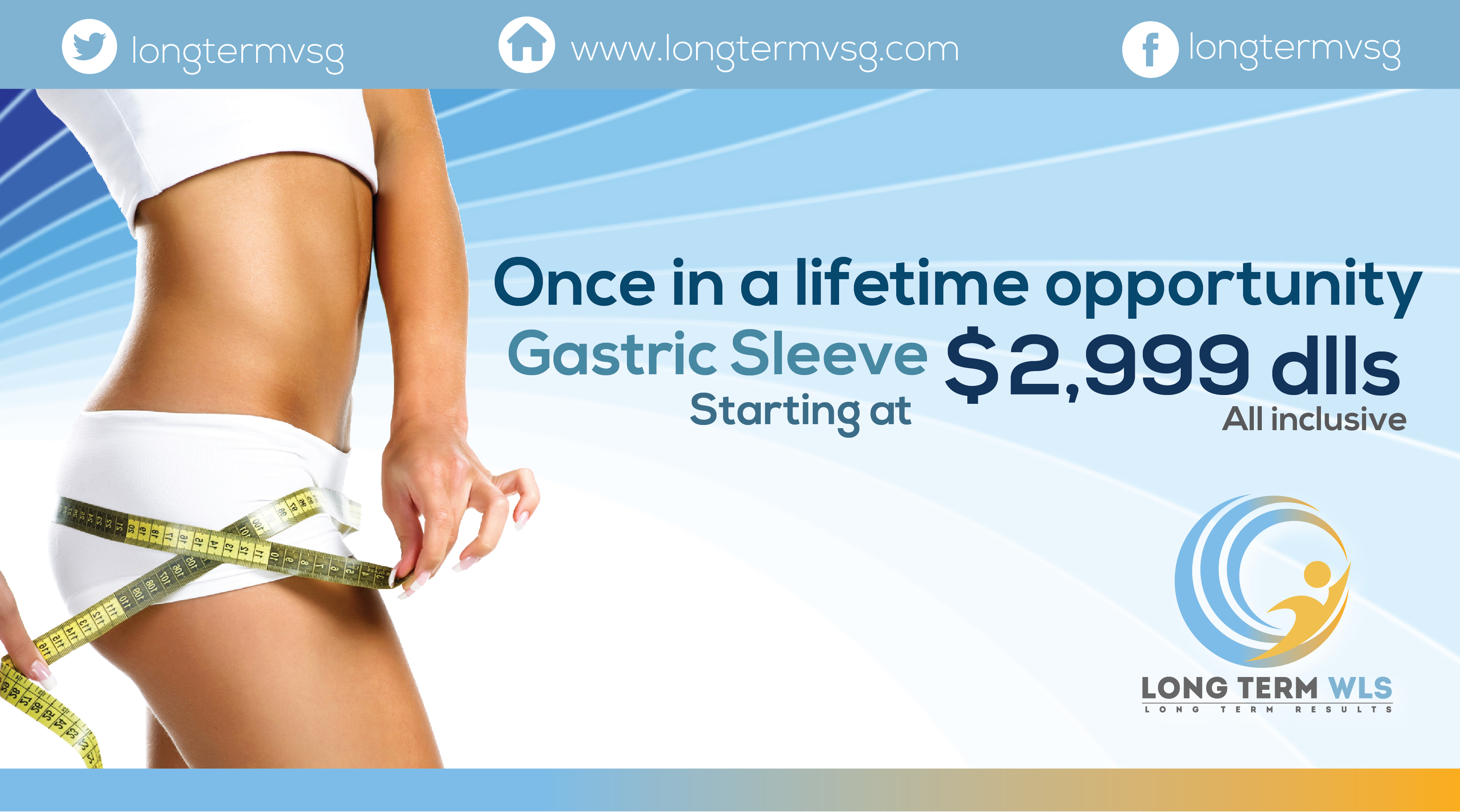 Vertical Sleeve Gastrectomy in Tijuana Mexico – Long Term Results Guaranteed
Feel free to call and learn more about VSG in Tijuana Mexico with Dr. Maytorena
In Long Term WLS / VSG we specialize in weight loss surgeries, our Leading Surgeon Dr. Jorge Maytorena with over 5000 successful bariatric procedures performed has become the best choice for weight loss surgery in Tijuana Mexico. Our professional and qualified team of surgeons.  Ary Zarate joined under the recommendations of their patients and our leading Surgeon Jorge Maytorena.
Our team is a very skillful and knowledgeable, here are some of the bariatric procedures we offer:
---
How much does Gastric Sleeve Surgery in Tijuana Mexico cost?
We are now running on promotional prices, take advantage of this opportunity!
Gastric Sleeve surgery with Dr. Maytorena $3,499 Dlls
---
Bariatric surgery in Tijuana Mexico a great option!
Just across San Diego, California border you will find Tijuana, Mexico, the ideal destination for bariatric surgery! Tijuana, Mexico has become one of the top destinations for medical tourism, where patients struggling to afford or find the right treatment at U.S and Canada are able to get a high-quality health care, warm treat from the medical staff, better insurance solutions and avoiding long waiting lists for a very reasonable and affordable price….
If you're looking for a high quality health care, Tijuana Mexico may be the best option for you! Tijuana has world-renowned physicians, experienced staff, modern and well equipped hospitals. If you worry about your insurance, you need to know that US health plans are now covering services in Mexico!
Tijuana Mexico offers you the best deals for weight loss surgery with outstanding results, every day more and more people are traveling to Tijuana to get bariatric surgery, satisfying and exceeding expectations…
How to choose the right surgeon…
Going through bariatric surgery it's a life changing decision, a successful weight loss surgery will make you feel more like yourself and give you greater confidence for years to come. On the other hand, ending up in the hands of an inexperienced bariatric surgeon increases your chances of having poor results which leads to additional costs, time, and health complications…
It's very important to do a research about the Surgeon's Credentials Before Making a Decision, it's also crucial to check their patients reviews and results.
With Dr. Maytorena and  Dr. Ary Zarate  you will be able to find truthful and transparent information about their certifications, skills, customer service and more important, their patients weight loss results. In Long Term WLS / VSG you will find you the best bariatric surgeons in Tijuana Mexico, we focus on giving the best medical experience to our patients; with bedside manners, warm and caring treat, we will provide you a life changing result!
Our weight loss surgeons!
Dr. Jorge Maytorena is the leading weight loss surgeon of the Long Term WLS / VSG team, his experience and technique is putting him on the spotlight as one of the best bariatric surgeons of Tijuana Mexico. With over 9 years of experience he has performed over 4,000 surgeries with high levels of satisfaction and outstanding results for his patients. Dr. Maytorena is also a trauma surgeon, he is prepared and highly certified to treat traumatic injuries along with any "emergency" situations, trauma surgeons are trained to attend any surgical critical care; resuscitating, stabilizing, evaluating and managing the patient…
Dr. Ary Zarate, certified and talented weight loss surgeon in Tijuana Mexico, offering bariatric surgeries to national and foreign patients for a very affordable price…  Dr. Ary Zarate has achieved several qualification's and certifications from many medical schools around Mexico, his professionalism and constant preparation along with the increasing recommendation of the patients is what mainly influenced to be part of the Long Term VSG. Dr. Ary Zarate personalized care and dedication to every one of this patients are one of his best attributes as a doctor and surgeon, obtaining the constant recommendation and preference of his weight loss patients…
---
All-inclusive bariatric surgery…
Because we care about you, Long Term VSG offers you a "All-inclusive bariatric surgery service"; we take care of all the logistics that includes travel from your home to Tijuana Mexico for a bariatric surgery:
Ground transportation to and from Facilitiess to the San Diego International Airport
3 day, 2 Night stay at Facilities (Companion Stay not included)
Necessary local transportation
All pre-op testing and exams
All related surgical costs (surgeon's fees, anesthesia, equipment, recovery house, and nursing care)
Meals included for patient
Extra fee for medical prescription ($150 Dlls)
---
Laparoscopic Sleeve Gastrectomy
Sleeve gastrectomy is a restrictive bariatric surgery. During this procedure, the surgeon creates a small, sleeve-shaped stomach. It is larger than the stomach pouch created during Roux-en-Y bypass-and is about the size of a banana.
Choosing weight-loss surgery in Tijuana Mexico is an important decision. You should be informed on what to expect. Although our staff will review guidelines during each phase, we provide this overview to get you started.


Sleeve Gastrectomy/Vertical Gastrectomy
Newer surgical option for carefully selected patients
Long term outcome data beyond five years has not been reported
Perioperative risk appears low, even in high risk patients
80% to 85% of the stomach is removed
Recommended long term vitamin and mineral supplementation
Does not require the implantation of a foreign device
Documented weight loss as high as 89% of excess body weight
Not reversible, but can be converted to a Gastric Bypass